The islands of Perhentian Besar (Big) and kecil (small) offer amazing snorkeling spots in their boulder encrusted bays.The aquamarine waters with excellent visibility and spectacular underwater reefs make Perhentian the preferred choice of veteran divers.Plunge in and experince the thrill of seeing manta rays,reef sharks and barracudas.Closer to shore,there's the option of watching turtles lay eggs at Three Coves bay,feeding the vibrant coloured fish or just sitting back and enjoying the sun and breeze.
Between the islands of Pulau Perhentian and Pulau Susu Dara are some spectacular dive sites.Sightings of the whale shark,the largets fish in the world,are common.Found close to the equator,whale sharks are harmless to people and totally indifferent to divers.
Getting There.
By Air
From KLIA ,Penang or Subang Airport to Kota Bharu Airport ,the journey will take 45 minutes only.Flying with MAS ,Airasia and FireFly.From airport to Kuala Besut Jetty by Taxi is only 45 minute.Fares is around RM70.00.
By Car
If you driving a car,from Kuala Lumpur the journey will take 8 hour or 9 hour to Kuala Besut Jetty.From Singapore almost 10 hours.For parking ,the lots space and the charge around RM10.00 per day.
By Bus
From Hentian Putra Bas Station to Jerteh Bas Station by bus ,the journey will take time 8 hour.From Jerteh to Kuala Besut Jetty around 30 Minute with taxi or bus.If you traveling by bus,is the most cheapest fares.
Boat to Perhentian Island
By Speed boat ,only 30 minute to the island.Departure at 9.00am ,10.00am ,,12.00noon and 3.00pm.From Island to Kuala Besut Jetty at 8.00am ,12.00pm and 4.00pm.Return fares is RM70 per person.
Kampong Village also have School (Standard 1 until 6 ),Grocery ,Post Office , Clinic ,Police Stations,Mosque and Restaurant.
Its easy to get Water taxi around the island to the village.The fares based which resort or chalet you stay..less then RM20 per person..and the minimum around RM6 per person
Marine Park Conservation
This is to announce that beginning 17th July 2003, all visitors shall pay a fee for entering any Marine Park and Fisheries Protected Areas in the state of Terengganu. The rates for the entrance fees are:
| | |
| --- | --- |
| Adult | RM5.00 |
| Children (6-12years) | RM2.50 |
This imposed fees has a validity period of three days. The fees shall be paid to Department of Fisheries Malaysia or through any chalet operator, boat operator, tour operator or dive operator who acted on behalf of the Department of Fisheries Malaysia. Visitors are advice to collect and keep the ticket through out the validity period as a prove of paying the fees.
Provision to imposed the fees is in accordance to the fees (Marine Park Malaysian Order 2003) gazetted under the Fees Act 1951. Proceeds from the fees will be credited into the Marine Park and Marine Reserve Trust Fund established under section 10, Financial Procedure Act 1959 and will be used for implementation of management, conservation, protection, enforcement, research, monitoring, education programs within Marine Park and Fisheries Protected Areas in Malaysia.
Long Beach , Perhentian Kecil Island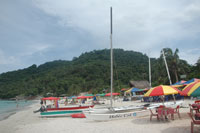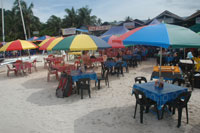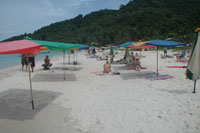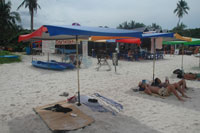 Just 20 minutes boat ride from North Perhentian Kecil Island,the beautiful beach and clear pristine water crystal .The group of bumperhead fish and Black Tip shark surrounding on house of reef. Distance from each island will take 5-10 minutes only.The snorkeling trips will take 2-3 hour around this island.Around 9.00am until 11.00pm ,lots of boat for snorkeling trips will come to this island.